Measuring COVID-19
A post dedicated to measuring the impact and recovery of COVID-19 in the Austin area.
I will update these charts periodically with new data.
---
July 12th, 2021 thoughts & takeaways:
June airport passenger traffic was 99% of "normal", as compared to February 2020. I'd expect the 4th of July weekend to be a big spike in the data.

Daily traffic volumes ticked up by about 5% in June to about 90% of normal traffic conditions.

As theorized, the spike in incidents in May was likely caused by the rainy weather. The daily rate has fallen down to about 125 incidents per day.

The Google mobility data is something I have been watching closely over the past couple weeks. Travel to workplaces is still only about 65% of pre-covid numbers. Travel to Transit Stations has actually surpassed the workplaces category and is 70% of pre-covid.
---
Live Updating Data (Daily at ~3AM Central):
Data sourced from the city of Austin open data portal.
---
Note: Some micromobility trips data can take about a week to update, the most recent few days of data may not be representative of the actual count.
Data sourced from the city of Austin open data portal.
---
Data sourced from the city of Austin open data portal.
---
Periodically Updated Data:
Last update: June 2nd, 2021
Monthly trip location trends data in Travis County:
This repo merges both Google & Apple mobilty data into one file.
---
Austin Airport passengers through TSA checkpoints (updated October 1st):
TSA updates this data periodically.
Credit to this repo who is crunching the numbers
---
Austin travel times post-COVID
Comparing to this time last year, these Austin corridors have seen a 30% reduction in travel time. This works out to being a 94% reduction in congestion for only 40-50% decrease in volume. For details, check out this full post on it here. Working with this bluetooth data from the publicly available open data portal was a lot of work so give it some love.
---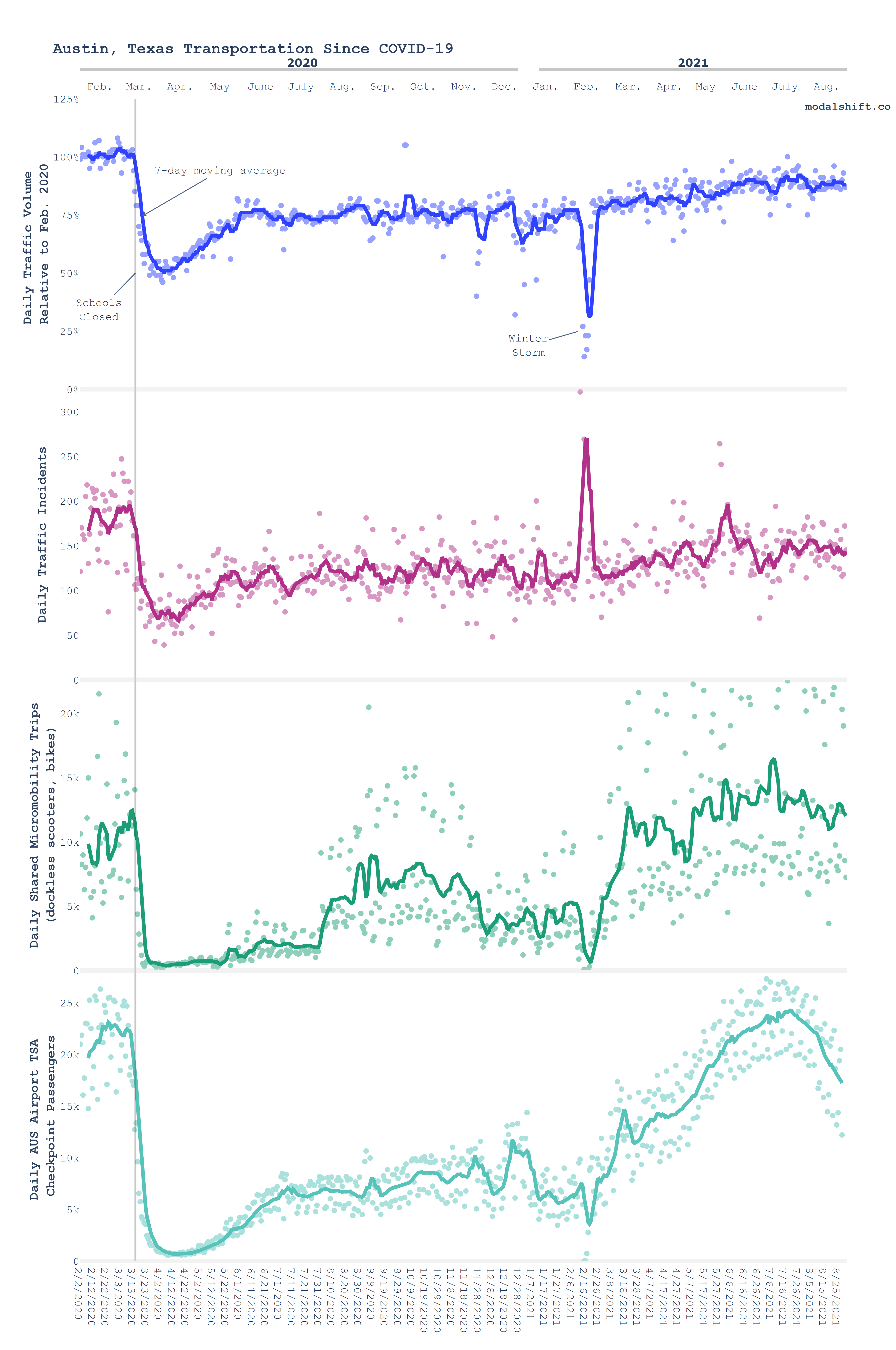 Do you value this blogpost? Let's get in touch: charlie@modalshift.co
Charlie
Written on April 29, 2020